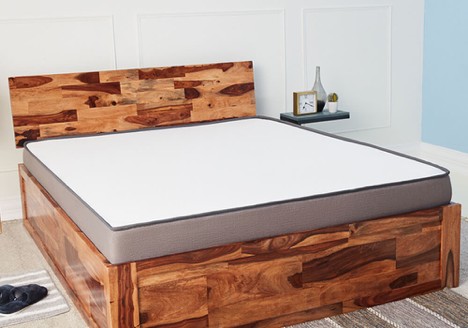 Sheesham is a type of wood which is very popular in India and owing to the best results they bestow they are ideal for most of the furniture. It is also known as the Indian rosewood and is obtained from deciduous trees. Wakefit beds made of Sheesham are very economical and durable, which makes them affordable for everyone. Sheesham wood colour ranges are dark, golden, and chestnut brown with dark streaks and a more lustrous appearance. Keep reading to know the reasons why Sheesham wood is ideal for a bed.
Properties To Check In A Wooden Bed
The wooden bed is solid and robust though there are various choices in wood. However, there are certain aspects to look for in different types of wooden beds, like:
Easy maintenance is the primary importance as far as any wood is considered. Only a few wooden kinds will need less effort to keep them going without any issues.
Check if the comfort and convenience offered is good.
The wood with which the bed is made should not require polishing frequently as it will spoil the quality of the bed with time.
The wooden bed should be plain and attractive with various designs, and crafts work on them.
The texture of the wooden bed must be of various ranges and types to create an aesthetic and unique look.
The wooden bed must blend with other furniture and interior work in the house.
The natural colour of the wood itself must be sufficient to pose elegance.
A wood choice must be affordable and reasonable in price to create a cost-effective bed type.
The production procedures should not experience any kind of difficulty or inconvenience during the making processes and techniques.
It should stay for decades without any damage.
Wooden beds are always considered heirlooms that no one will easily discard as they impart heavy expectations. Therefore, it must satisfy everyone's needs and wants and be sturdy enough to be passed on to generations.
Surprisingly Sheesham wood meets the above requirements from the other types of wood for a bed, and let us discuss how below.
Benefits Of Sheesham Wood
Sheesham wood has a lot of properties making it very useful to construct a bed. They are:
Sheesham lumber is very long-lasting as it can withstand various external factors and climatic conditions for even decades together. If placed in a proper environmental state without any rough handling, it can be even passed onto generations. Hence this is considered the best timber after teak in the Indian subcontinent. Its toughness can bear any intensity of sawing and cutting, but it is a great challenge owing to its complex nature.
Sheesham is innately resistant to rodents like dry-wood termites, fungus, decays, insects or moulds. Therefore, it is the best choice for making beds as it will require only a little or no maintenance.
Sheesham wood can be made in different shades with polish and coatings on them. The natural shade is widely preferred as they are more elegant to look and match with almost every other theme. The different colour options range from regular brown to a red tint. The texture of the grains on them is from medium to course. These natural grains add more choices in terms of visible variations.
Sheesham is popular to withstand all kinds of woodcarving and engraving works on them. This property makes it ideal for manufacturing beds that need to be rich with more intricate designs to add extra luxury. Sheesham never splits or warps at any point of production and is, therefore, an excellent choice for making most of the beds.
Sheesham shines under various final stages of finishing procedures like polishing or hand waxing. They result in a smoother surface and end product that is well defined even in its unique colour.
How Is Sheesham Best For Beds?
While making beds, the best variety of wood is Sheesham because:
It is cost-effective and highly affordable by a massive crowd.
Sheesham wood bed is best in quality that does not compromise on any of its looks and features.
The texture is medium-coarse and looks very attractive.
It is elementary to maintain, and hence when beds are made with them, they do not require any special care.
Cleaning Sheesham beds can be made by simply wiping them with a dry cloth.
Sheesham is durable and may even last a lifetime.
They come in various shades, making them suitable to satisfy the needs and wants of many people.
Sheesham lumbar can undergo any external treatments during the production of furniture.
It is best for carving processes.
They do not break in any situations during the production processes and are hence ideal for making beds.
Even a very massive queen size bed online will cost comparatively more minor as the wood itself costs significantly less. Hence it is an ideal choice for guest beds as well.
With extra coating, a Sheesham wood turns out to be more enticing and appealing.
In India, people believe in Vastu-Shastra that makes it highly auspicious. The myth is that this wood brings about peace and prosperity to every home in which they are installed.
Sheesham looks luxurious and traditional at all times.
Various sites offer the Sheesham bed online with the best exchange policy, easy returns, free shipping, and convenient EMI options.
Sheesham wood is grown in large quantities in India. Yet, it has got attention worldwide because of its good quality, durability, high resistance, and produce veneers, plywood, and other flooring materials. This wood is undoubtedly the most preferred option for various other furniture, household decors and musical instruments in various forms of traditional and contemporary patterns. It has also been concluded that Sheesham is the feasible choice of hardwood that exhibits properties similar to teak. So have no second thought when picking Sheesham for your bed design. It is worth every penny and will promise to stay with you until your last breath when treated right.