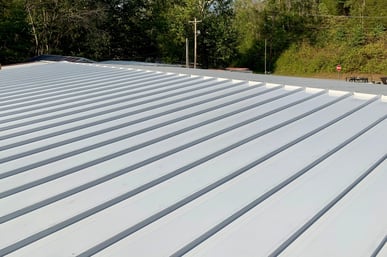 metal roof are very on-trend among Utah home buyers right now, and for a good reason. Metal roofs are beautiful and very durable. They can withstand winds up to 140 mph and can last from 40 to 70 years. However, if you've decided on metal for your roof and think your decision-making is done, think again. There are quite a few types of metal roofing to choose between. Here is a list to help you with your choice.

Aluminum Shingles

These shingles can be pricy, but they hold up longer than aluminum panels.

Aluminum Panels

These panels are easier on the budget than shingles and they give your roof a stunning minimalistic look.

Steel

Steel is a bit pricier than other options but worth every penny. It is fairly resistant to weathering and will generally last 30 years longer than an asphalt roof. You may even get a discount on your home insurance for selecting steel.

Tin

Tin roofs are actually steel covered in a tin coating. This means they are also incredibly durable like steel roofs.

Copper

Copper will give your home a unique charm and should last around 60 years. It is also fire resistant, which makes it an ideal choice if you live in a part of Utah that is prone to fires.

Zinc

This is an eco-friendly choice because zinc roofing materials can be completely recycled. Zinc is also a great choice for unique roofs, as it is easy to bend and shape.

Metal Slate

This type of roofing is metal-coated stone. These stones are extremely heavy and not every home can withstand their weight, so be sure yours can before selecting this option.

Standing Seam Metal

This material consists of vertical beams that interlock. It is very durable and stands up to fire and snow.

When looking at these options, select your top three, and then get an opinion for an experienced roofer. They will help you make an informed decision on which material is right to protect your home and give it the aesthetic appeal you are looking for. Once you have your material selected, gather several bids from local roofing companies with positive reviews. Chose the bid that is right for you and soon you'll have a stunning metal roof that will last for years and years to come.
Tassie Siding is a metal roof supplier in Utah.